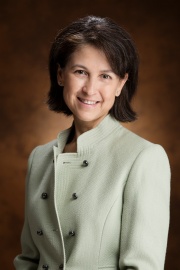 James H. Elliott Director and Vice Chair for Education
Education
M.D., Mayo Medical School
M.S., University of Maryland
B.A., National University
Postgraduate Training
Internship
Mayo Clinic, Rochester, MN
Residency
Mayo Clinic, Rochester, MN
Board Certification
American Board of Ophthalmology
Professional Societies
American Academy of Ophthalmology
American Society of Cataract and Refractive Surgery
Association of University Professors in Ophthalmology
Women in Ophthalmology
Nashville Academy of Ophthalmology
Tennessee Academy of Ophthalmology
Honors & Awards
Wayman Excellence in Ophthalmology Award - Vanderbilt Eye Institute
Achievement Award - American Academy of Ophthalmology                    
James H. Elliott Endowed Directorship - Vanderbilt University Medical Center
Straatsma Award for Excellence in Resident Education - American Academy of Ophthalmology   
and Association of University Professors of Ophthalmology
Director's Star Award - Veterans Affairs Medical Center    
Women in Ophthalmology Educator of the Year Award – Women in Ophthalmology
Academy for Excellence in Education
Excellence in Surgical Instruction - VUMC Department of Ophthalmology
Helen Keller Sight Award - Lions Club VUMC
Secretary's Award for Innovation in Disease Prevention - U.S. Department of Public Health
CIBA Community Service Award - CIBA Pharmaceuticals
Outstanding Achievement Award – Mayo Medical School    
 
Professional Appointments
Education Committee - Chair, Vanderbilt Eye Institute
Insituto Regional de Oftalmologia, Remote Surgical Faculty – Orbis International
Program Director's Council, past president - Association of University Professors in Ophthalmology
Fellowship Compliance Committee – Association of University Professors in Ophthalmology
Residency Review Committee – Accreditation Council on Graduate Medical Education
Committee on Resident Education - American Academy of Ophthalmology
Faculty Senate - Vanderbilt University
Diversity Committee - Vanderbilt Eye Institute
Background
Dr. Wayman completed her medical education at Mayo Medical School and her ophthalmology residency at Mayo Clinic in Rochester, Minnesota. She was in private practice as a comprehensive ophthalmologist in central Florida before joining the faculty at Vanderbilt Eye Institute in 2005. Her interest in teaching developed during residency through observation of her own program director's dedication. The hands-on practical instruction used in residency inspired her to develop curricula that involved one-on-one clinical and surgical discussions, wet labs, and surgical video reviews.
Her interest in quality improvement and cataract surgery led to the development of a ten-week stepwise cataract surgical curriculum designed to take PGY-2 residents from wet lab to operating room. As a result, the program is able to introduce residents to microsurgery safely and much earlier in the program. In addition, this approach has also enabled her to develop a relationship with the residents very early in their training.
Early in her tenure at VEI she partnered with Paul Sternberg, M.D. to implement quality improvement strategies in the training program. Together they modified the morbidity and mortality conferences to include a core competency-based case analysis through a multidisciplinary collaboration between residents, faculty, and staff.
She is a member of the American Academy of Ophthalmology's Committee on Resident Education, Association of University Professors in Ophthalmology Program Director's Council and Chair of the Vanderbilt Eye Institute's Education Committee. Her work with these groups involves reviewing curricula for resident education and development of tools to assist fellow educators.
She believes that building a strong educational program is accomplished through teamwork and a commitment to excellence.