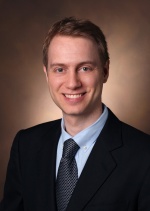 Anthony B. Daniels, M.D.
Ocular Oncology Division Chief, Ocular Oncology Fellowship Director
Education
M.D., University of Pennsylvania School of Medicine
M.Sc., London School of Economics
A.B., Princeton University
Postgraduate Training
Internship
Memorial Sloan-Kettering Cancer Center
Residency
Harvard Medical School
Fellowship
Harvard Medical School
Board Certification
American Board of Ophthalmology
Professional Affiliations
International Society of Ocular Oncology
American Academy of Ophthalmology
Association for Research in Vision and Ophthalmology
Nashville Academy of Ophthalmology
Massachusetts Medical Society
Sigma Xi National Scientific Research Honor Society
Honors and Awards
Ronald G. Michels Fellowship Foundation Award, 2012
Raymond R. Margherio Award from the Retina Society, 2012
Gragoudas Prize, 2011-2012
Alcon Ophthalmology Research Scholar, 2011-2012
"Best Clinical Research Abstract" at Harvard Ophthalmology Departmentannual meeting, 2010
Area of Clinical Expertise
Ocular Oncology/Intraocular Tumors
Age-Related Macular Degeneration
Retinal Detachment
Background
Anthony Daniels, M.D., M.Sc. is chief of the Division of Ocular Oncology and Pathology and director of the Ocular Oncology Fellowship Program in the Department of Ophthalmology, Vanderbilt Eye Institute and Vanderbilt-Ingram Cancer Center. An assistant professor of Ophthalmology and Visual Sciences, and Radiation Oncology, he joined the Vanderbilt faculty in 2013.  He graduated summa cum laude from Princeton University and subsequently received a Master's degree in public health policy from the London School of Economics.  After attending the University of Pennsylvania School of Medicine on a full scholarship, Dr. Daniels completed an internship at the Memorial Sloan-Kettering Cancer Center, and then both his ophthalmology residency as well as a vitreoretinal surgery fellowship at the Massachusetts Eye and Ear Infirmary at Harvard Medical School. He subsequently did additional training in the management of ocular tumors at Memorial Sloan-Kettering Cancer Center and at the Mayo Clinic.

Dr. Daniels specializes in ocular tumors in adults and children, including melanoma, retinoblastoma, hemangiomas, ocular metastases, lymphoma and ocular surface tumors. Funded by the NIH, by foundations and by industry, He has been nationally recognized for his research, which focuses on drug discovery and animal models for eye cancers.  He has authored 3 editions of the most popular ophthalmology board review book on the market, as well as numerous book chapters and several dozen peer reviewed publications. Dr. Daniels has received more than a dozen research awards, including the Ronald G. Michels Award, the Ronald Margherio Research Award from the Retina Society, and a prestigious Career Development Award from the Research to Prevent Blindness Foundation. He is the former president of the Nashville Academy of Ophthalmology, a member of the prestigious Macula Society and Retina Society, and he was selected as one of the nation's "Emerging Vision Scientists" by the Association for Eye and Vision Research to present to Congress.

He is a member of the Clinical Advisory Council of the VHL Alliance, a Medical Advisory Board member of the Rally Foundation for Pediatric Cancer, a member of the Canadian Retinoblastoma Research Advisory Board, and he recently chaired the International VHL Surveillance Guidelines Consortium.