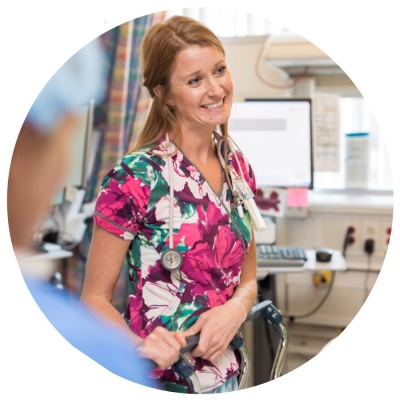 Summer is a second-degree nurse.  The Nurse Residency Program set her up for success to pursue her new career goals!

What has been your career path?  Where are you now on your path? 
I am a second-degree nurse that chose the VUMC Nurse Residency path.  After visiting the HR/PACU, I loved the fast-pace, high degree of collaboration and teamwork, and the variety of patients that you manage.  I have always had the heart to use research to improve my nursing skills and patient care.  I have had so much fun building a research study for our unit and partnering with many others to complete the research study on our unit.  I am a Quality Improvement Analyst and, in addition to Evidence-Based Practice Research, I have learned a lot about the discipline of Quality Improvement and its use in the clinical environment.  In my career path, I am currently having fun with all of the resources that we have at Vanderbilt!  I was honored to go to Kenya in March 2017 to do nursing research and quality improvement. I am working on writing manuscripts for publication on my Kenya work, as well as the research work is done on our unit.  Through this work, I was happy to receive my RN 4 last year through VPNPP (Vanderbilt's Professional Nurse Practice Program).
 
How did Vanderbilt University Medical Center's Nurse Residency Program support your transition to practice? What has the experience meant to you? 
I loved the Nurse Residency Program and felt that it set me up for success!  In such a big institution, I felt that the program helped teach me nursing fundamentals, but also I learned about so many different opportunities and resources that Vanderbilt has, such as our Evidence-Based Practice Nursing Research Fellowship program.
 
Did you consider other residency programs?  Why did you choose Vanderbilt? 
Yes, I did consider other residency programs.  I chose Vanderbilt because of the number of resources available to nurses to diversify, hone, and launch their nursing career.

What is it about being a Vanderbilt nurse that makes you proud? 
I love being a Vanderbilt Nurse because I can be excellent, compassionate, and creative.  The Vanderbilt Nursing culture empowers and launches nurses into doing things that at other hospitals could be impossible.  I believe the Vanderbilt Nursing culture is so unique and I am so fortunate to be a part of it!