Find your Microsoft 365 Exchange Online Archive 
From a Workstation
From a workstation with Microsoft Outlook installed, find your archive on the left menu bar under your personal inbox. The folder will have the name ''Archive'' in it.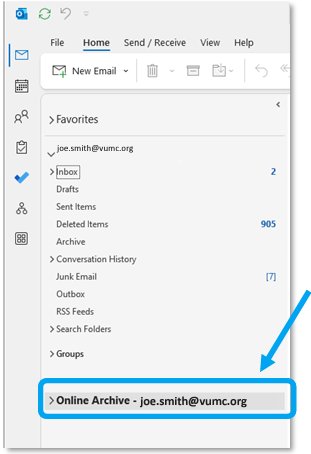 From Outlook on the Web (OWA)
From a browser, find your archive on the left menu bar under your personal inbox. The folder will have the name ''Archive'' in it. 
Get your email and calendar anytime: https:/outlook.office365.com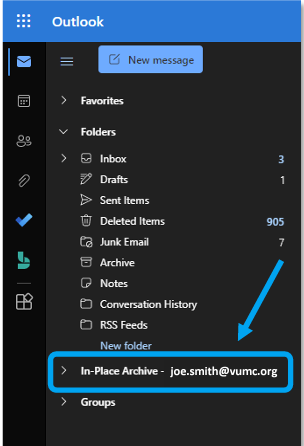 FAQ
How does M365 Exchange Online Archive work?
An online Archive Mailbox is created separate from your main mailbox.
The default policy automatically moves your mail & calendar items that are older than 1 year into your Online Archive mailbox. 
Your folder structure is retained when items are moved into it.
It is available through the Outlook client and Outlook on the Web (OWA).
An option to select which mail item/folder is not archived is available, if needed.
It allows you to manually move mail items into your archive mailbox if you like.
Your main mailbox storage size will reduce as mail items move in your archive mailbox.
You can search both your main mailbox and your archive mailbox at the same time.
Outlook performance will improve as archiving will reduce email 'bloat' within your main mailbox. 
What is M365 Exchange Online Archive?
Microsoft Exchange Online Archive is a Microsoft 365 cloud-based, enterprise-class archiving solution for organizations that have deployed Microsoft 365 plans. Exchange Online Archive assists organizations with archiving, compliance, regulatory, and Microsoft Purview eDiscovery challenges.
As a Microsoft online service, Exchange Online Archive is designed to help meet the need for robust security, reliability, and user productivity. 
It is an advanced enterprise archiving solution which retains your archived mail items in a specialized mailbox and automatically expands when needed. It is accessible through the Outlook client and Outlook on the web (OWA).
How do I get M365 Exchange Online Archive setup for my mailbox?
There is nothing to set up. By default, all M365 E3 licensed users will have this feature turned on automatically for them.
How do I access my M365 Exchange Online Archive? 
The M365 Exchange Online Archive can be accessed from your desktop Outlook client or from a web browser and using the following web address: https://portal.office365.com, then click on the Outlook mail icon, or directly into OWA using this address: https://outlook.office.com
Once you are in either the Outlook Client or Outlook on the Web (OWA), you will see one of two items on the left side in the folder list towards the bottom:

For Outlook, you will see 'Online Archive - <your email address>'
For OWA, you will see 'Personal Archive - <your display name>' 
What is the difference between the Outlook Archive Folder vs M365 Exchange Online Archive?
The Outlook Archive Folder is found within your own mailbox. It is a legacy pre-created folder and is like the folders you can create yourself. It provides no additional benefits.
Should I use M365 Exchange Online Archiving instead of using a PST file?
Yes, M365 Exchange Online Archiving is recommended for your VUMC mailbox.
Outlook's PST file is not recommended for use with your M365 mailbox. Online Archiving is specifically designed for M365 mailboxes and offers enterprise archiving features. The .pst file type, a personal storage table, can contain messages, emails, calendar events, email addresses, etc. This file type is not recommended for network shares and cannot be used in a cloud-based environment, like M365.
Risks in using an Outlook PST file:

Possible corruption of the PST file
Possible complete loss of the PST file from a device
PST could cause Outlook client not to open
PST file NOT accessible from the web

365 Online Archiving removes all these risks. You can even drag your PST mail items into your Online Archiving Mailbox and stop using PST file altogether. 
Find out more