You've received the email saying your website is ready or maybe you've been added to an existing site as a new content editor, but either way you're not sure where to start. The best place is always the beginning, and the beginning is being able to lg into the website.
Logging in to Barista
Logging in to a Barista website only takes a few steps.
Open your website in a new browser tab. Your website URL should look like https://www.vumc.org/**** where the **** are replaced with the name of your site.
Once your site loads, replace anything after the last / with /user. Your URL should look like https://www.vumc.org/****/user.
You'll then see two options, to either sign in with your VUnetID or to cancel logging in with your VUnetID, select the VUnetID option.
Go ahead and log in with your VUnetID and passowrd and then you'll be redirected back to the website.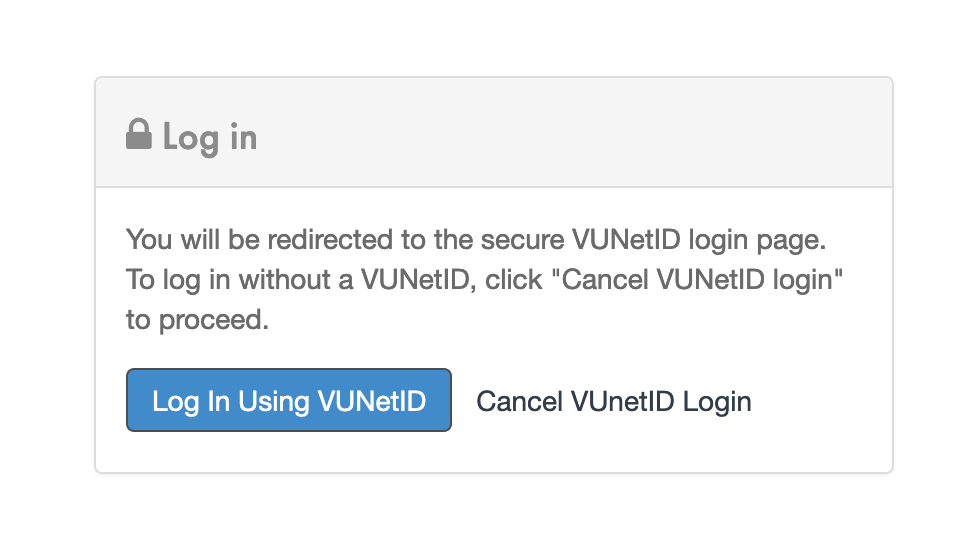 ---
Editor Navigation
Once you have successfully accessed the content editor you'll notice a toolbar at the top of your page. This is the main way you will navigate the administrative functions for your website. The toolbar contains links to the following sections:
+Create Content - this dropdown will allow you to create a new content element by selecting the content type you wish to use. Our Content Type Tutorial provides more information on each of the content types.
List Content - this menu item will allow you to view a list of all existing content, as well as add new content, modify existing content, or delete content.
Blocks - this menu item will open the list of existing blocks as well as allow for the creation of new blocks. Our Blocks Tutorial provides more information on each of the block types.
Menu - this menu item allows you to adjust the navigation for your website.
Settings - this opens up the settings page for your website, here you can select which page is your home page, links to departments or patient care areas and several other settings.
Users - this section allows you to manage the other content editors for your website as well as the content restriction groups.
Webform - this allows you to manage the contact form on your website.
 

---
Planning Your Site
Before building your site, it is a good idea to create an outline of the structure of the site. A typical outline for a lab site might look like this:
Home
     About the lab
Research (current projects)
     Past Projects
Members
Publications
Join the Lab
Contact
TIPS Consider how your users would expect to find pages on your site. Avoid using clever names or buzzwords. Organize your content into a hierarchy where it makes sense to do so. Familiarity is an asset: visit other sites with similar goals as yours and consider using similar organization. Consider your ability to keep content up to date. Do not create a blog or news section unless you have the resources to updated it frequently. Remember your audience. Unless you explicitly set a page to be private, it will be visible to the general public.