Study expands insight on shrinking pancreas in type 1 diabetes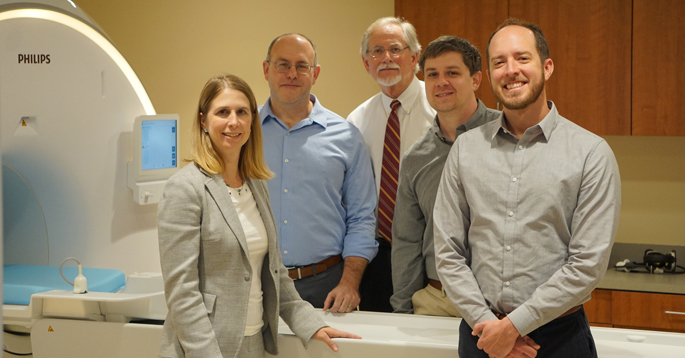 "Researchers with the Vanderbilt Diabetes Research and Training Center (DRTC) have discovered a progressive decline in pancreas volume over a one-year period in children and adolescents with newly diagnosed Type 1 diabetes."
"In the study, Vanderbilt investigators measured pancreas size in more than 50 children and adolescents with newly diagnosed Type 1 diabetes and compared this measure to pancreas size in age-matched individuals without Type 1 diabetes. Measurements were obtained by non-contrast magnetic resonance imaging (MRI) scans taken at the Vanderbilt University Institute of Imaging Science (VUIIS) approximately six months apart."
"Using the MRI-derived information, the investigators calculated the pancreas volume and found that smaller pancreas volume was evident within 100 days of diagnosis of Type 1 diabetes, and pancreas volume continued to decline over the first year after diabetes diagnosis. Individuals with Type 1 diabetes had an average pancreas volume nearly 40% less than those without Type 1 diabetes."
"Other investigators included former Vanderbilt University faculty member Jack Virostko, PhD, now at the Dell Medical School Department of Diagnostic Medicine at the University of Texas at Austin; Daniel Moore, MD, PhD, assistant professor of Pediatrics and an investigator in the Vanderbilt TrialNet Center; Melissa Hilmes, MD, assistant professor of Radiology; and DRTC Director Alvin C. Powers, MD. Hilmes interpreted the more than 300 MRI scans conducted during the study."
Study as published in Diabetes Care
Pancreas Volume Declines During the First Year After Diagnosis of Type 1 Diabetes and Exhibits Altered Diffusion at Disease Onset